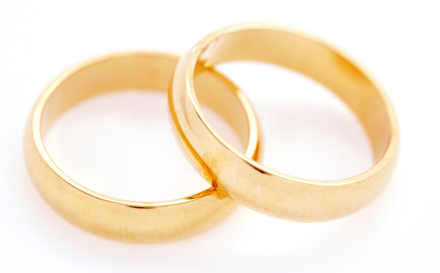 My Grandma was someone who smiled with her eyes. Someone who told me bedtime stories without complaint even though she told me the same story over and over again. But one day after the bedtime stories weren't needed anymore, we had one of those moments where my Grandma became my friend.  She talked about how she met my Grandpa and the life that followed. But then she paused and talked about men. I blushed and looked at her smiling eyes trying to see the woman who existed before the Grandma. She shared with me her thoughts on what makes a good man. Below is a list of ten traits my Grandma advised me to look for in a man before I married him. She was married for 55 years at the time to my Grandpa, so I figured I better pay attention.
"You gotta like the way he looks; you'll be looking at him for a long time. However, don't fall for the guy who looks in the mirror at himself more than at you."
"Marry someone who doesn't get all frustrated with tangled holiday lights. It shows he has patience for later on when dealing with you all tangled up in emotions."
"He should tell you that you are beautiful in the morning as well as the night before in bed if you know what I mean."
"If he knows you are afraid of thunderstorms, the right one will call to make sure you are OK at the first sign of lightning."
"He's your biggest fan, coach or water boy when you need it."
"He encourages your friendships with girlfriends, even if it means sitting home alone for a night or watching the kids so you can go out."
"The size of his heart is more important than the size of his bank account or other things if you know what I mean."
"Don't go for the guy who runs over road kill just for fun. This shows a lack of compassion."
 "Be wary of a man who has to wear designer clothes or drives label cars. He might see you as one of those labels that he will eventually tire of or will exchange for a newer model."
 "Look to his father for a glimpse on what your future might be. He learned how to be a man, husband and father from him. Also, look to how he treats his mother, it offers a glimpse of how he may treat you."




While Grandma was telling me the above gems of advice, I wondered,  "Does a man have to have all these things to be a good man? Is this all I need to look for in a man?"
She looked out the window, paused and placed her hand on mine and answered, "Marry your best friend and a man who cherishes you."
Well said Grandma. Thank you.