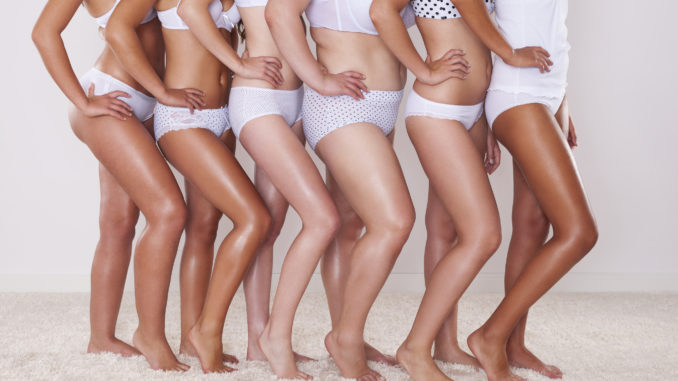 No matter what shape or size your body was before you had children, you develop new areas of interest. You stare at these new areas hoping they will change, disappear or transform, but they don't.  After your last child hits kindergarten, you realize they're here to stay. Look familiar?
The Muffin Top Area
This is the area just below your belly button that looks like you put too much batter in your muffin tin and it baked over.  This flap of skin cannot be firmed by weights, sit ups or praying.  It adds a bulge in your pants and tankinis and Spanx become your new best friends.
Area 51
This is the area each woman has that she swears aliens did something to but she can't prove it.  Each woman has a different Area 51.  For some it's the forest of hairs growing on her chin, for others the dark patches of skin that look like landing patterns of spaceships.  These areas are classified and usually hidden from cameras or other recording devices.
The Growth Spurt Area
Your shoe size hasn't changed since junior high.  However, after kids and your feet have a growth spurt.  Feet grow a little longer and a little wider.  Perhaps to balance you during nursing a newborn while cooking dinner or maybe to help you withstand 90 minute soccer matches of your 10 year old on a Saturday morning. Being a mother requires a strong foundation and maybe your feet knew what they were doing.
The Saggy Boob Area
Whether yours pointed up, straight across or different ways; after kids they both hang a little looser.  They are more laid back now, just like you are after realizing spilled milk, missed appointments, lack of showers and not having all the answers are OK.
The Road Map Area
Whether your stretch marks resemble a map New York City or the quiet country roads of Oklahoma; they are the marks of giving life. Embrace them, they help you know where you've been.
The Crooked Hip Area

Your hip becomes crooked after walking around with an infant or toddler perched on it.  What once was a perch now becomes a shelf for the laundry basket and the occasional "hand on hip" maneuver to get your teenager to clean their room.

Under Arm Flap
Whether your under arm flaps are a 787 or a propeller plane wing type; look at them as your wings to take you to new heights.
These areas as markers of a beautiful body that created life.  Each woman has her own "special areas".  What are yours?