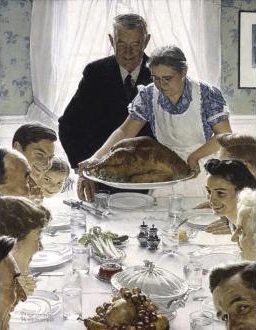 Thanksgiving Day with family can be stressful. We're thrown together expecting the day to look like a Norman Rockwell painting or a Hallmark card. But if your sister competes over who made the best pie, or Aunt Kathy goes on about how she changed your diaper, we yearn to run out the door and fetch an Uber.
There is hope.
Here's your twelve point guide to seeing Thanksgiving differently…
Wear your 'all you can eat pants'.  An elastic waist or a shirt long enough to cover the button in your pants will do. It's all about the food. Each bite of a traditional dish from your family is a bite of history.
Expect the question, "Which way do we pass the food?"  Uncle Frank says pass to the right and Aunt Phyllis insists you pass to the left. Just smile. If it is a buffet, Uncle Walt will start it off every year. It's tradition.
Lick the beaters after whipping the cream; you are never too old to do this.
Calories don't count on Thanksgiving, and the scale isn't accurate the next day.  It's a proven fact.
Breathe deeply the smells of the cooking. They are the smells of memories.
The wishbone wishes can be shared. Especially among siblings.
Make sure the gas tank is full and Dad wears tennis shoes on to do store runs.  "Honey, I forgot the cranberries, could you go…?"
The dining table always seems to expand to fit everyone.
Everyone at the kids table is not a kid.  They are "grown up table people" in training.
The drumstick goes to the person who can clearly answer what the name of the boat was that carried the pilgrims over to America?  (Mayflower)
If the gravy is lumpy, just claim it's a new seasoning you are trying.
It's tradition for the cranberries to have the can rings.  It makes it easy for guests to slice.
Your family will remember a gathering of family and friends, not the dirty dishes. They will remember how Dad or Grandpa carved the turkey, not if it was dry that year. They will remember their time at the kids table and the Thanksgiving they graduated to the "big" table. They will remember licking the beaters from the whipping cream and will smile 30 years later when they do it with their kids while you watch from the dining room.
Have a warm and wonderful Thanksgiving from No Makeup Required!