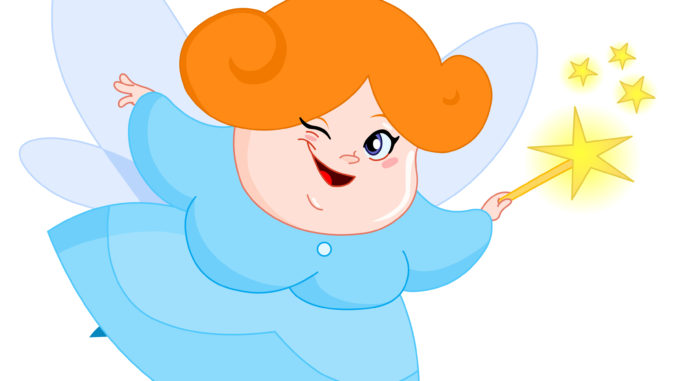 Dear Fairy Godmother,
Lately I need a clone to get things done.  It used to be I needed an extra set of hands to pick up the sippy cups or hold a crying toddler but now I need a whole army of me, well…to keep up with life.  Between the carpools, errands, cooking, school, cleaning, working, and a husband, I am spread too thin.  The clone would drive carpool while I cook dinner.  Or the clone would clean the house while I read over my son's school papers.
One, two or three of me would do just fine.
Please, Fairy Godmother, please clone me!
Love,
Not Enough of Me to Go Around
Dear Not Enough of Me to Go Around,
Sounds like you are frustrated and feel overwhelmed.  I would be too after the Tuesday you had last week. Three things happened all at the same time. The spaghetti fell out of the strainer and into garbage disposal, the dog was throwing up in the family room and battle #483 broke out between the kids in the playroom over bad breath.  I almost whipped out my wand on that day.  But before I could, you had everything in control.  You are an amazing ring leader.
I thought about your request for a very long time while tapping my wand on the pixie dust container.  I have four questions for you to ask yourself before I grant you your wish.
Would you have wanted your clone to hear your son say, "Thanks Mom…I love you" as he was jumping out of the car to go to school yesterday?
The poem your daughter wrote about her family that you accidentally saw on her desk because you were cleaning her room.  Would you want your clone to have read it instead?
At the store last week while you were running an errand and ran into a friend you had not seen in months and you were able to catch up and give each other a hug.  The clone there too?
Or when your husband came home on Monday after work and gave you an extra-long hug like your arms were the only refuge for him that day.  Would you want to miss that?
Sometimes as we go about our day we forget all the small stuff that happens during the mayhem and messes.  That stuff is the good stuff.  Look through the chaos…and you'll see it.
After thinking about these thoughts, I have a funny feeling you might change your wish.  However, I promise, the next time the pasta spills into the sink, I'll get busy with my pixie dust for you.
Love,
Your Fairy Godmother