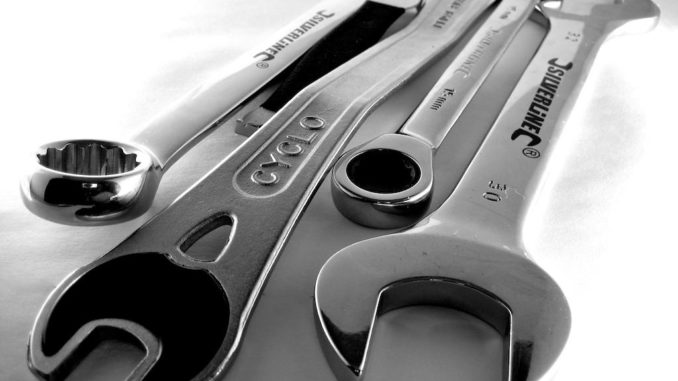 Certain situations test a marriage after you say, "I do". A broken appliance is one and men saying,  "I can fix that," is another.
"Beep, beep, blaaaeeep!" whines the washing machine.  The red light blinks indicating not enough hot water is entering the tub.  Washing machines know everything these days. Except why the socks disappear in the dryer.
The red light warning blinks for quite a while. Bill, my husband believes he can "fix" the washing machine.
Anytime a man says they can "fix" something that frankly they never use makes me nervous.
"I can fix it!" Bill yells from the kitchen.  I cringe. "Let him do his manly thing", I think to myself.  I pray for the washing machine and throw one in for him.
"Are you sure?  I can call Pete the Plumber?" I ask with the sweetest tone I can muster at the moment.
"Nope, I like my solution. This will save us money," he answers.
His solution? Fill the washing machine with buckets of hot water and restart the machine.  As I type this I am still in disbelief the love of my life considers this a solution.  He fills the tub with hot water and the cycle of hot/cold finishes without a beep. He is proud.
Every cycle beeps and he fills the machine with hot water, all.day.long.  I am not proud.
"Honey, don't you think this is a little crazy?"
"No, it's saving us $200 and a visit from the plumber.  I can handle this."
"Um, it's taking twice the time to do a load of laundry,"
"I'll go to the hardware store."
When a man goes the hardware store something happens to them. I don't know if it's the smell of lumber and sawdust. But they come home with new information and a superman attitude.
"I know what I am doing now!  They said to clean the screens."
"What screens?"
"You know…the screens."
"Um, no I don't know.  Are they in the back?"
"I'll figure it out.  I can't work with you standing over me." Men do not like women standing there watching them failing.
"I am just trying to help."
"You're not helping."
"Fine."
In marriage, when the word "fine" is used in any context a fight is imminent.
Swear words I haven't heard since the lawnmower broke are coming from the laundry room.  The garage door opens and closes many times and screwdrivers, ratchet sets and flashlights are brought into the war zone.  My man is in battle with metal and a rotating drum.
"Are you ok in there?" I ask half hour later.
"Yes, everything's fine."  There is that word again…fine.
"Should I call Pete?"
Silence.
Another hour passes….a lot more noise is happening.  All of the sudden, everything goes silent.
"Tracy!" he yells.
"Yes?" I answer.
"CALL THE PLUMBER!" he yells from the doorway of the laundry room.  He has dryer lint in his hair and sweat on his tee shirt.  My man, back from battle.
"Ok, honey." I answer. 'I told you so' would not be good here.
Now is not the time to mention the dishwasher racks are rusting…