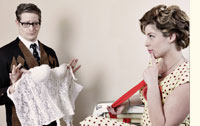 My husband asks me to dance with him regularly. Well, asking me to dance is his way of requesting sex. My answers go something like this…
He puts on the smolder, winks, and starts the moves, "Wanna dance?"
As he does the 'two step' towards me, I evaluate the mood I am in at that precise moment and answer him accordingly.
"Sure, how about a salsa?" as I wink and smolder back.
Or…
"You lead and I'll follow."
Or…
"Ok, the quick step sounds fun."
You should see us on polka nights.
Some nights or mornings, I am not in a dancing mood.  I answer, "The dance hall is closed tonight."
My reasons for closure of the dance hall are different depending on how I feel, how I look, how I don't look, how the house looks, how the to do list looks, and it goes on…a woman is a beautiful complicated being whose emotions can change in 15 minute windows of time. We have many reasons for saying no or maybe or yes!
Top Ten Reasons Women Say No in the Bedroom
I haven't taken a shower.
Just because I said maybe at 10 a.m. doesn't mean yes at 10 p.m.
I have laundry, work, lunches to pack, bills to pay, careers, etc…..
I haven't brushed my teeth.
I am stressed and tired.
I don't feel pretty.
It has been awhile and I forgot what it was like.
We just did it last night.
It is too late or too early.
I'm not ovulating or I am just not in the mood.
Top Ten Reasons Men Don't Get Lucky
All of the Above