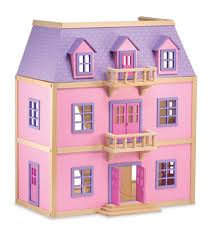 Once upon a time a long time ago there was a little girl who loved to play with her doll house. She played house as long as she wanted and stopped when she tired of it.
There was a Dad, Mom, baby, big sister, dog and a cat who lived in the doll house. The baby only cried when she pretended it did and the plastic dog never pooped on the lawn. She could move or change things around if she wasn't happy with the way things were going. She loved that doll house and all its perfection.
"Sarah, you are the Dad and I'll be the Mom," said the little girl to her friend who had come over to play with her doll house.
"Ok, but can I also be the baby?" her friend asked.
"Um, ok, but I get to be the big sister and the dog," she answered.
With all the "parts" divvied up, the friends began to play…
"Time for lunch!" yelled the little girl. Small paper boxes and plastic pink plates lined the table. No crumbs, spilled milk or sticky messes were present. Everyone was on time and sat in the correct chair. No one seemed to argue about what was served. Pretend smacking sounds were made and a few 'yums' were said.
"Thanks Mom, can I go outside and play?" asked the sister with plastic red hair.
"Sure, just be back before dinner," Mom answered as she whistled to herself while putting the boxes and plastic dishes back without needing to be washed.
"Ok!" sister said with glee.
The two girls kept playing with the doll house and acting out several family occurrences. The Dad was in the chair reading, Mom was fiddling around the house, kids were out playing and the cat was curled up on the corner rug that never moved. It was perfect and controlled. Each piece of the doll house was under the two playmates wishes.
"Sarah, I'm tired of playing house. Do you want to go have a snack?" asked the little girl.
"Sure."
Just like that they stopped playing house and went to do something else. Everyday millions of women around the country wish they too could stop playing house, drop it all, and go have a snack. The pretend doll house with no weeds and its perfect pink shutters is not the same as a real house with fingerprints on the windows and something sticky on the stove. A real house is messy with dog hair on the rug and toys lying about with the bottom of the laundry basket that hasn't been seen since 2003.
A doll house seems so much easier to manage.
But, life memories are made in a real house not a doll house. First steps, lost teeth, homework, family dinners and holidays are all part of a real house.  A real house protects you from life's storms better than a plastic doll house. It may be chaotic and noisy, messy and sometimes hard, but I would rather have a real house than a fake one.