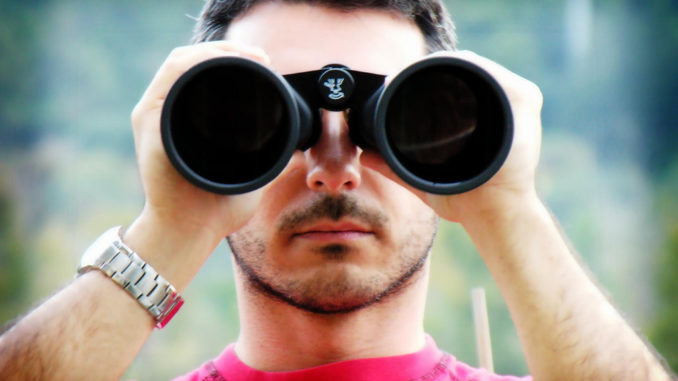 "Honey!  There isn't any milk in the fridge," yells my husband from the kitchen.
"It's on the top shelf," I yell back with my hand on my chin.  I am waiting for the response I know is coming…
"I don't see it!" he yells back.  And…there it is; the predicted response. I can visualize him down there bent over at the waist staring into the fridge, blinking.
"It's on the top shelf behind the pickle jar," I answer.
"Found it, thank you!" he yells back.
I sit back and ponder, why can't a man see things that are right in front of him?  He can spot a bikini 50 yards away but can't see the milk in the fridge right in front of him two feet away.  Sometimes I wonder if I put a picture of a bikini on the milk, would he be able to find the milk?
Another question about men's vision is to look under things.  Why can't a man look under things to find something?
"Honey!  Where is the checkbook?" he asks from the kitchen.
"It's on the desk by the phone," I answer, smiling, knowing again what's coming…
"I don't see it, where is it?" he asks again.
"It's somewhere by the phone," I answer again.
"I still don't see it," he says.
"Look under the school calendar, 4 inches to the right of the phone, between the flashlight and the ruler," I answer relieving him of his struggle.
Men seriously can't see certain things.  They can't see the dirt that needs to be vacuumed up and are blind to the socks and underwear on the floor.  They will walk right past a load of clean laundry in need of a home and not stop to help. Yup, they sure seem to be lacking in the visual sense…or are they?
"Hello honey," my husband says as he encircles my waist with his hands.  My head is deep into the pantry trying to fish out a jar of jam for breakfast. I turn around and end up face to face with a smiling man.  "Hello dear," I say.
"You're looking cute this morning," he complements me.  How on earth can he think I look cute in a bathrobe, holey slippers, and unbrushed teeth?  I don't feel cute and I certainly can't possibly look cute.  My hair is still bent on one side from my pillow.
"Thank you," I say.  I look into his eyes, searching for why he sees me as cute.  He gives me a squeeze, winks and moves on about his morning.  Didn't he notice I didn't have any makeup on or my hair done?  Doesn't he care?  Nope, I guess he sees me as cute just the way I am.
I look at him as he walks away.  Husbands aren't so blind after all.  Maybe I should try looking at myself through his eyes once in a while and not worry why he can't find the milk.  He sees me as I should see myself.