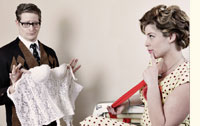 You can tell a lot about a woman from what is in her underwear drawer.
Has she organized them by the day of the week, by fabric, or are they jostled about mingling around with each other?   Imagine the conversations they would have if they could talk. The cotton briefs alone could lecture the bikinis on how to act.
For instance, cotton briefs are used for utility and stability. A woman with a lot of cotton briefs may like comfort or practicality.  They fit like your favorite tee shirt and they stay put on your bottom. Before marriage they are the non date night underwear and after years of marriage they become a staple.
Bikini underwear is more flirtatious.  They flirt with your bum and go for a ride up and down depending on how you sit and bend.  An argument with the flap of skin leftover from childbirth causes bikini underwear to get the shaft in the drawer.  They end up underneath the cotton briefs.
Animal prints, underwear that would fit in a matchbox, and silk underwear are for special occasions, to boost your step or feeling sexy quotient.  It's a secret for you to keep all your own that you have leopard print underwear on.  No one from the PTA meeting to the boardroom would know.  Before marriage these resided in the front of the drawer.  After marriage they are pulled out on date night or if the laundry basket consumed all the cotton briefs.
Then there is the support underwear.  This strong and faithful underwear are there for you when you need a little help.  They hold you in, give you the extra inch for a zipper to close or even smooth out your form.  Problem is what they are trying to hold in usually pops out the top or bottom and you look like a sausage casing.  These are not the underwear you wear on a date night.  After 20 years of marriage maybe.  But by then he's wearing support wear too.
There is also a miscellaneous category of underwear. Underwear so special it gets tucked in the back of the drawer, its memories safely hidden.  Every once in awhile it is pulled out and handled with care.  Perhaps they are from her wedding night or a special vacation or the one who got away. Maybe it is her maternity underwear to remind her of the life she created.  Only she chooses which underwear achieves this special ranking and placement in the drawer.
Underwear leads an interesting life.  It sees things no one else sees.  When they get old and holey, the elastic is shot or maybe their time has come to an end, a woman makes the choice to throw them out or save them.  She is choosing which memories to keep and which to say goodbye to.  Either way, a woman's underwear drawer tells a story of a woman.  Her own private tale of a life being lived.  What story does your underwear drawer tell?