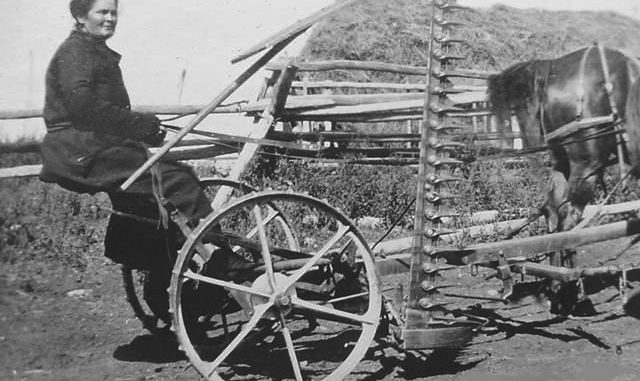 Editors Note: Elinore Pruitt Stewart, in 1909, lost her husband in a railroad accident, left Denver with her two-year-old daughter and traveled to Wyoming in hopes of buying land. Widowed and penniless, she worked as a seamstress and housekeeper to make enough money to purchase a homestead. In 1909, women had little rights without a husband and keep in mind, women couldn't vote until 1919. Buying a homestead was no easy feat for a woman back then, much less doing the laborious work needed to run the land. Elinore's three letters inspire women of today not to give up on what they want just because someone says, "You can't do that" or "You shouldn't do that". The first and second letter were written at the beginning of her homesteading experience and the third was sent after she succeeded. The letters have been edited for brevity.

Please note, Mr. Stewart is the Scottish employer of Elinore who owns the land next to her homestead. She eventually married Mr. Stewart.
A Claim Filed
May 24, 1909
Dear, Dear, Mrs. Coney,
Well, I have filed on my land and am now a bloated landowner. I waited a long time to even see land in the reserve, and the snow is yet too deep, so I thought as they have but three months of summer and spring together and as I wanted the land for a ranch anyway, perhaps I had better stay in the valley. So I have filed adjoining Mr. Stewart and I am well pleased. I have a grove of twelve swamp pines on my place, and I am going to build my house there.  I thought it would be very romantic to live on the peaks amide the whispering pines, but I reckon it would be powerfully uncomfortable also, and I guess my twelve can whisper enough for me; and a dandy thing is, I have all the nice snow-water I want; a small stream runs right though the center of my land and I am quite near wood.
A neighbor and his daughter were going to Green River, the county-seat, and said I might go along, so I did, as I could file there as well as at the the land office; and oh, that trip! I had more fun to the square inch that Mark Twain or Samantha Allen ever provoked. It took us a whole week to go and come. We camped out, of course, for in the whole sixty miles there was but one house, and going in that direction there is not a tree to be seen nothing but sage, sand, and sheep.
After two such more days I "arrived." When I went up to the office where I was to file, the door was open and the most taciturn old man sat before a desk. I hesitated at the door, but he never let on. I coughed, yet no sign but a deeper scowl. I stepped in and modestly kicked over a chair. He whirled around like I had shot him. "Well?" he interrogated. I said, "I am powerful glad of it. I was afraid you were sick, you looked in such pain." He looked at me a minute, then grinned and said he thought I was a book-agent. Fancy me, a fat, comfortable widow, trying to sell books!
Well, I filed and came home.
I must quit writing before you vote me a nuisance. With lots of love to you,
Your sincere friend,
Elinore Rupert
Hard Work and Happy Summer
September 11, 1909
Dear Mrs. Coney,
This has been for me the busiest, happiest summer I can remember. I have worked very hard, but it has been work that I really enjoy. Help of any kind is very hard to get here, and Mr. Stewart had been too confident of getting men, so that haying caught him with too few men to put up the hay. He has no man to run the mower and he couldn't run both the mower and the stack, so you can fancy what a place he was in.
I don't know if I ever told you, but my parents died within a year of each other and left six of us to shift for ourselves. Our people offered to take one here and there among them until we should all have a place, but we refused to be raised on the halves and so arranged to stay at Grandmother's and keep together. Well, we had no money to hire men to do our wok, so had to learn to do it ourselves. Consequently I learned to do many things which girls more fortunately situated don't even know have to be done. Among the things I learned to do was the way to run a mowing-machine. It cost me many bitter tears because I got sunburned, and my hands were hard, rough, and stained with machine oil, and I used to wonder how any Prince Charming could overlook all that in any girl he came to. For all I had ever read of the Prince had to do with his "reverently kissing her lily-white hand," or doing some other food trick with a hand as white as a snowflake.
I almost forgot I knew how to mow until Mr. Stewart got into such a panic. If he put a man to mow, it kept them all idle at the stacker, and he just couldn't get enough men. I was afraid to tell him I could mow for fear he would forbid me to do so. But one morning, when he was chasing a last hope of help, I went down to the barn, took out the horses, and went to mowing. I had enough cut before he got back to show him I knew how, and as he came back he was delighted as as well as surprised. I was glad because I really like to mow and besides that, I am adding feathers to my cap in a surprising way. When you see me again you will think I am wearing a feather duster!
I have done most of my cooking at night, have milked seven cows every day, and have done all the hay-cutting, so you see I have been working. But I have found time to put up thirty pints of jelly and the same amount of jam for myself. I used wild fruits, gooseberries, currants, raspberries, and cherries. I have almost two gallons of the cherry butter, and I think it is delicious.
Sincerely yours,
Elinore Rupert
A Message to Women – Yes, You Can Do What You Wish
Dear Mrs. Coney,
This is Sunday and I suppose I ought not to be writing, but I must write to you and I may not have another chance soon.
Now, this is the letter I have been wanting to write you for a long time, but could not because until now I had not actually proven all I wanted to prove.
I never did like to theorize, and so this year I set out to prove that a woman could ranch if she wanted to. We like to grow potatoes on new ground, that is, newly cleared land on which no crop has been grown. Few weeds form on new land, so it makes less work. So I selected my potato-patch, and the man ploughed it, although I could have done that if Clyde would have let me. I cut the potatoes, Jerrine helped, and we dropped them in the rows. The man covered them, and that ends the man's part. By that time the garden ground was ready, so I planted the garden. I had almost an acre in vegetables. I irrigated and I cultivated it myself.
We had all the vegetables we could possibly use, and now Jerrine and I have put in our cellar full, and this is what we have: one large bin of potatoes (more than two tons), half a ton of carrots, a large bin of beets, one of turnips, one of onions, one of parsnips, and on the other side of the cellar we have more than one hundred heads of cabbage. … They told me when I came that I could not even raise common beans, but I tried and succeeded. And also I raised lots of green tomatoes, and, as we like them preserved. … I milked ten cows twice a day all summer; have sold enough butter to pay for a year's supply of flour and gasoline. We use a gasoline lamp. I have raised enough chickens to completely renew my flock, and all we wanted to eat, and have some fryers to go into the winter with. I have enough turkeys for all of our birthdays and holidays.
In all I have told about I have had no help but Jerrine. Many of my neighbors did better than I did, although I know many town people would doubt my doing so much, but I did it. I have tried every kid of work this ranch affords, and I can do any of it. Of course I am extra strong, but those who try know that strength and knowledge come with doing. I just love to experiment, to work, and to prove out things, so that ranch life and "roughing it" just suit me.
Sincerely yours,
Elinore Pruitt Stewart
If you would like to read her entire diary, click Letters of a Woman Homesteader (Dover Books on Americana)
or check out your local library.