In 1849, a woman not quite 5 feet tall, scarred from the brutality of slavery, ran for her freedom. At 27-years old she navigated marshlands and avoided slave hunters with the help of the Underground Railroad and the North Star. Yet, after stepping across the Mason-Dixon line, finally free after 27-years, Harriet did what no one else did.
She turned around and went back…
What does it mean to be a strong woman? A woman who bears heavy burdens? A woman who stands up for what she believes in? Or someone who gets up day after day living her life the best she can? Part of being your own woman is being a strong woman. But what exactly does it mean to be "a strong woman"? Harriet Tubman was no doubt a strong woman. What can she teach us now?
Meet Harriet Tubman
Slaves were officially freed in 1865 with the ratification of the 13th Amendment to the Constitution. But not Harriet. No, Harriet Tubman would free herself  and dozens of other slaves long before that.
"Freedom Fighter", "Aunt Harriet", "Conductor" or "Black Moses", these are just a few names bestowed upon her over the course of history. Harriet Tubman led slaves to freedom using the Underground Railroad – a network of secret routes and safe houses– in the 1850's. She was also a nurse and spy during the civil war and earned the respect of numerous abolitionists and suffragists as a frequent speaker at conventions and rallies.
"I was the conductor of the Underground Railroad for eight years, and I can say what most conductors can't say — I never ran my train off the track and I never lost a passenger." Harriet Tubman, suffrage convention, 1896

Endurance
Harriet was born into slavery about 1822 (her birth name was actually Araminta Ross, "Minty". Later she changed her name to Harriet in honor of her mother). At the age of five, she was brutally beaten daily for not keeping her owner's baby asleep. This left permanent scars on her back not to mention her soul. At six she she was required to wade in icy water to check on muskrat traps, while ill with the measles.  Harriet could have turned bitter or resigned to being a slave, but no. It only emblazoned her yearning to be free.

When Tubman was an adolescent, she was sent to a dry-goods store for supplies where she encountered a slave who had left the fields without permission. The man's overseer demanded that Tubman help restrain the runaway. What Harriet Tubman did next would define her to history. Harriet refused and blocked the doorway. The overseer threw a two-pound weight striking her in the head. The blow nearly killed her. She was severely injured and suffered from headaches, seizures, and narcolepsy for the rest of her life.
But did Harriett give up? Nope.
"I went to work again and there I worked with the blood and sweat rolling down my face till I couldn't see." – Harriet Tubman
The above instances of Harriet's young life are but a few of the many she endured. As a slave, she lived in constant fear of beatings, sale to another owner, or worse. But in the face of this fear, Harriet did an amazing thing. She endured.




Courageous
In 1849, Tubman and her brothers, Ben and Henry, ran for freedom from the plantation they worked on. A runaway slave would be punished harshly; all three siblings risked their lives to be free. They hid for three weeks and when a reward was offered for their capture, Ben and Henry were afraid and turned back.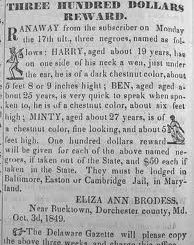 But did Harriet give up? No. She kept going…without her brothers. Tubman set out alone. She tapped into the Underground Railroad and traveled at night. No one knows the exact route of her escape but every minute of everyday was an act of courage until she crossed the Mason-Dixon line. For if caught, she would have been beaten or worse.
"When I found I had crossed that line, I looked at my hands to see if I was the same person. There was such a glory over everything; the sun came like gold through the trees, and over the fields, and I felt like I was in Heaven" –Harriet Tubman, Scenes in the Life of Harriet Tubman By Sarah Hopkins Bradford.
Bravery
She turned around and went back…
Harriet worked and saved her money to later help the rest of her family escape. She could have stayed up North and lived a free life, but no. In December 1850, Tubman executed her first mission, the rescue of her niece Kessiah Jolley Bowley and Bowley's two children, James Alfred and infant Araminta. She would have rescued her husband, but while she was gone he married another woman.
Time and time again, against any fear or obstacle, Harriet risked her life by going back to very place she had just escaped to free other slaves. Tubman used disguises to aid her escapes. Dressed as a man, an old woman, and even as a middle-class free black, she remained undetected by those who would capture her. She varied her route; some paths to freedom were by water, others through dangerous slave-holding territory. In the end, Harriet led dozens of slaves to freedom.
Do you have endurance, courage or bravery?
When I look around at women, I see hidden strengths. The single mom supporting her family, or the woman studying late into the night for a college degree, or the woman who endured a miscarriage only to try again to get pregnant. What about the women who undergo mammograms, then wait for the results? Or the bravery of women everyday who get up and go out and live their lives the best they can? Life isn't easy. It's messy and sometimes just plain difficult. Women everyday exhibit strength in little ways.
Harriet Tubman is our foremother, our teacher, our heroine. So, I look to Harriet when I feel uncertain about life. I ask myself, "What would Harriet do?" It is then I can turn around and go back and face the uncertainty of life with endurance, courage and bravery, inspired by Harriet Tubman.
For more information about Harriet Tubman, please visit the National Park Service website, Harriet Tubman National Park.