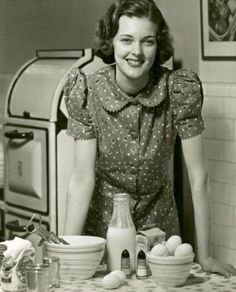 A woman wobbled on her cane while looking at cookies. Normally I steer clear of the cookie aisle, but she drew me in with her silvery purple hair tucked in a rain cap.
"Do you need help?" I asked.
"No dear, I am okay," she answered, clearing her throat.
"Are you sure?" I continued.
"I always buy cookies on June 4th," she smiled. Deep wrinkles circled her face like a map. Her hand trembled as she reached up to the shelf.
None of this was my business and I had two more errands to run. I pulled out my phone and checked the date, June 4th.




"Why are you buying cookies on June 4th?" I asked.
She stretched her purple spotted arm up and her bony finger bounced from oatmeal cookies to peanut butter cookies.  A knowing smile appeared on her face as she settled on the peanut butter.
"These are the cookies I baked with my children on June 4th. It had to be peanut butter or oatmeal," she answered with a warm light in her eye.  "I am too old to bake them myself now." She tapped my arm twice as if to say, "its ok" and placed the cookies in her basket.
"Can't your children help you?" I asked, crossing the polite line of etiquette. My two year old son sucked on the shopping cart handle sounding like a turkey baster. "Oh, Johnny, stop! That's dirty!"
She crumpled over, "Tastes good doesn't it? Nice and cool on your gums." She tapped his arm twice.
Johnny stopped sucking for a moment, his eyes lit up while investigating the woman's face. She smiled warmly back at him and he started sucking again.
"So…June 4th is today," I said. I didn't just cross the line, I leapt over it.
"So it is."
Johnny squealed and threw his sippy cup across the aisle, denting the bag of sugar on the lower shelf.
I sighed, picked it up and handed it back to him. He threw it again. I picked it up. He threw it again, harder. She tapped my arm twice before I could pick the cup up again.
"Do you like peanut butter or oatmeal cookies?" she asked Johnny.
"I don't know," he said.
"Hmmm, perhaps you and your Mom could make some? Then you could decide for yourself," she said.
"That would be a mess. Flour everywhere, eggs breaking and I can't even think about the sugar…" I said, picking up the cup.
"Yes, messy," she said.
"Mommy, fun!" said Johnny. He stopped sucking the cart handle and scooped out his ear.
"Fun for you, not for Mommy," I said, pulling his hand from his ear and inspecting his fingers for debris. My shoulders slumped. The thought of baking cookies with a two year old sent my energy level to the dump.
"Fun for Mom too," she said. Her basket lowered down and helped balance her walk.
"Wait, why June 4th? Why cookies?" I asked.
"Cookies!" Johnny yelled, while picking his nose.
"Baking cookies teaches many things. Math, measuring correctly, following directions, timing, heat safety, clean up, many, many things for children…" she answered.
"True, but so time consuming," I said.
"Yes, time is precious," she said pointing to Johnny, "You take care of your Mommy."
He grinned and tapped her finger twice. She nodded and winked.
"Wait, why June 4th?" Selfishly, I wanted to know.
"June 4th is the day my husband died in the war. My children and I would bake cookies to remember him," she answered, her eyes drifting off to another time, spoke of her pain.
"I'm sorry," I said, "I didn't mean to…"
She waved her arm dismissing my claim. Her eyes bounced back and forth from me to Johnny with her mouth in a closed smile. She tapped our arms twice. Grasping her basket, she shuffled down the aisle.
A man embraced her, "Picked out the cookies, Mom?"
"Johnny, how about we pick out the items we need to make cookies?" I asked, tapping his arm twice.