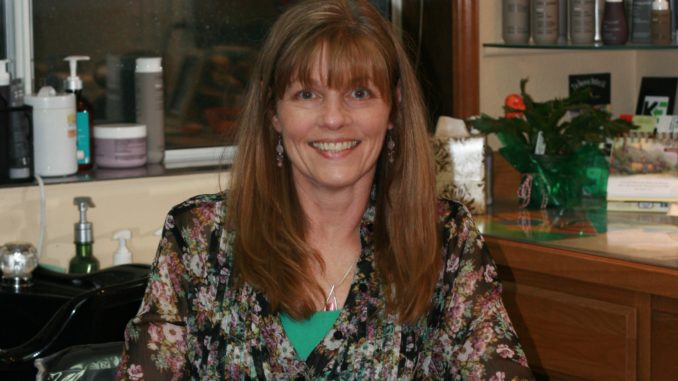 Meet Marie, a hairstylist, salon owner, mom of two, wife and human to a golden retriever. She shares with you the steps you need to be a hairstylist and her faith that freed her from the fear of failure. Marie opens up about the barriers that almost stopped her and the work/family balance she found after having her children. In this flowing interview, Marie reveals the whys and how's to make your dream of becoming a hairstylist a reality.
"My clients and I learn so much from each other by sharing our lives…vacations, recipes, studies, and…life!" – Marie
Why did choose your career?  I like working with my hands and being creative. I wanted to help people feel good about their natural beauty by serving and pampering them.
Are their age limitations for hairstylists?  No! I was twenty when I started. There's no age limit. You can go to cosmetology school at any age.
Tell me about a typical work day for you?   I typically see eight to twelve people each work day. It depends on the service they want as to how many customers I can fit into my day. I usually start around 10am and work until 8pm.
What do you love about your job?   The people. Pampering and serving them. Having the one on one with them.  We learn so much from each other by sharing our lives…vacations, recipes, studies etc…life! I do several families so it's great to get to know the whole family!




What education or training requirements are there for your job?   Go to a cosmetology school. A certain amount of apprenticeship hours are required and a state board exam must be passed before your license is issued. School usually takes 18 months and you can apply for scholarships or go part-time while you work at another job to get yourself by. A directory of cosmetology schools can be found at American Association of Cosmetology Schools.
What fears/barriers did you experience to gain entry into cosmetology?   The technical side of the program was hard for me, mostly the chemical side. You're expected to know the chemicals used in the certain processes and safe handling techniques. Things like that. Taking the state exam boards was nerve-wracking! I was so nervous before the test, I threw up, but I made it through. During eight hour testing, the instructors peek over your shoulder watching very carefully. You can take practice exams and learn about what is required in your state at National-Interstate Council of State Boards of Cosmetology to help alleviate anxiety.

Also, I stopped working in the business for many years which created a barrier. I enrolled in hair/coloring classes to update my skills as I tried to get back into a cosmetology. I actually did that twice before creating a salon downstairs in my home so I could be there with my kids.
"I knew it was what I wanted to do so I worked hard and never gave up."
How did you overcome the fears? Lots of prayers and studying hard in school. I knew it was what I wanted to do so I worked hard and never gave up.
If you could go back and change anything on your path to your job what would it be?    I don't believe I would change anything. My journey started after two years of Art Design in College that lead to Cosmetology school in Vallejo California. I graduated with my license and never worked in California before moving to Alaska where even more hours were required to work in a salon.  I worked as a bank teller during the day and did hair by night on the side for families in their homes, usually for meals or very little money just to keep my hands in the business. I moved to Seattle and worked part-time in retail while I apprenticed under a salon owner. I passed the Washington State board exam and was on my way.

What tips do you recommend for work/family balance?  If you have a job that you can work out of the house, set your hours and keep them so they don't overflow into family time.  I built a salon area in my basement for customers. The sacrifices and comprises I had to make was missing a few things at my kids elementary school.  But I highly recommend whether working in the home or outside the home to try and be home after school when they are 6th or 7th – 12th grade. They will say they don't want you there but I think it is very important that you are during those later years. A career in cosmetology offers the flexibility a parent needs.

Advice to a woman who may want to try this career?   Go to one of the cosmetology school and talk with them about the hours, cost, time, full or part time available. Ask if there's a trail run so you can see if it's what you thought it was going to be like.  You can research different schools at American Association of Cosmetology Schools.

Resources for you to research being a Hairstylist or attending Cosmetology School– Begin by clicking around Professional Beauty Association, then check out your local community college or technical institutes.   These videos about current cosmetology students  will help you figure out which discipline of beauty works for you.  You can also search for job openings to see in general what's available in your area at Monster, Indeed, or Zip Recruiter. Remember, yes you can do this!
Woman to Woman Questions:

What's your favorite movie?   Second Chances
Hat or ponytail on a bad hair day?   Ponytail
What would you tell your 20 year old self if you could go back?   Don't get discouraged…life doesn't always go how we want it to or plan it..it's a journey..enjoy the adventure and be grateful to the Lord for each day!
What is your favorite food indulgence? Dark Chocolate
Person you admire most? Peggie
If you could meet one person, living or dead, who would that be and what would you ask them? Mary, mother of Jesus.  What was it like raising the Son of God?
What quality of a woman do you most admire? One that has a heart for Jesus
What one thing would you change about women if you could? Their Self image: That they would know they are uniquely made and loved dearly by their heavenly Father and they don't need to try to be like anyone else.
What is a book you would recommend to any woman to read once in her life?   Crazy Love: Overwhelmed by a Relentless God