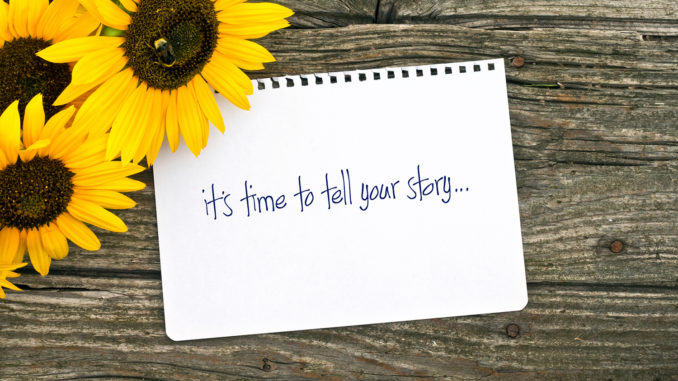 Meet Laura Parrott-Perry a single mom of two amazing kids and one handsome dog. She grew up during the 80's, which explains her love of loud music, and later studied rehabilitation counseling in college. Laura's story begins like most of our stories, as a little girl, but Laura's story took a dark turn. Learn about the chance meeting thirty-five years later that changed her life and the exact moment she found her voice. The chain of events that led Laura to call herself a sexual abuse survivor is one of courage and discovery that will leave you wanting to grow sunflowers. Yes, sunflowers.
"There is no greater agony than bearing an untold story inside of you." – Maya Angelou
Where does your story begin?   After my divorce I moved 3,000 miles away from where I was living. I had been a stay at home mom since my kids were born, so I needed a next step as I never had a career. But I love to write and friends encouraged me to start. So, I started a blog to experiment with my creativity.
It takes courage to start writing a blog and share personal stories. Where did you find the courage?   When my marriage blew up, I was undone; I lost the ability to fake my life. My divorce shattered me. I was devastated. I thought I knew what divorce was, but I didn't. Once you've had the idea of your life destroyed, you aren't afraid of much after that.  I had to start telling the truth.
I went to a writer's conference and the speaker said, "What will the world miss if you don't tell your story?" The hairs on my back stood up every time he said those words.  The second night, I told my story to three women in a bar. It was the first time I referred to myself as a survivor. It was time for me to write about being a sexual abuse survivor.
"I wasn't afraid anymore."
What abuse happened?   I was abused by my father's father, and when I told my parents, my mother believed me, my father did not. My family then lost contact with other family members, including my cousin Mary. Neither of Mary's parents believed her when she told them she had been abused too. Our family split apart.
What did you do next?   Ironically, the week after the conference, I received a friend request from my cousin, Mary, who I hadn't seen in thirty-five years. I accepted her friend request and it was then I found out she had also been abused. Neither of Mary's parents believed her story when she told them.
"We walked arm in arm and reported it to the police."
We arranged to meet and made a decision. We walked arm in arm into the police station and reported the abuse to an officer. Our grandfather had been dead for a long time. We figured the police would laugh at us. Instead they took us very seriously and found another victim outside the family the next day. I wrote about what had happened at the police station in my blog while it was still raw. It was only the day after we went in.
That must have been painful post to write.   Fifteen minutes is all it took to write. I posted it up and headed back home. It went viral during my drive back home. My sleepy blog went from a couple hundred visitors a day to 80,000 a day and kept building. People responded to the story because there was a real hunger for that conversation. Mary and I became determined to do something with our story.
What led you and Mary to start the foundation?   I received thousands of emails from women and some men sharing their story. I read and responded to each and every email. People were saying "me too", even people who I knew from high school. It became clear to Mary and me that women were walking around carrying around a dark and heavy secret alone. In fact, one in four women are victims of sexual abuse, one in six men.
What is your foundation?  Say It Survivor. We create live workshops for women survivors, including guided writing prompts to untangle the narrative of their story. It's a tool to tell their story to someone who is compassionate but not in the story personally. People close to you are in it and can't separate their emotions. We offer a place that treats you with empathy and has no emotional skin in the game.




We also bring survivors together in a community of support on the website. As victims we are told to be quiet. At Say it Survivor, we encourage survivors to have a voice. We created a blog as a forum to tell their story anonymously. Mary and I are paying forward the healing we received by telling our story.
Why are sunflowers on your foundation's website?  The day the post about me and Mary reporting our abuse went viral, I stayed up all night reading the comments. The visual that kept coming to me was sunflowers. I poured over all the "me too" statements from women of all ages. I kept visualizing sunflowers. The quote on our site is:
"Sunflowers have something in common with survivors. They seek the light. They turn toward the sun. A survivor using our website is stepping out of the darkness, and seeking the warmth and the light, seeking growth."
What stigmas exist regarding sexual abuse survivors? How would you address the stigma?   The stigmas are that abuse stories are shameful and embarrassing. Survivors make other people uncomfortable. If I was crossing the street and you hit me, I wouldn't be ashamed. I didn't have any more say in whether I was sexually abused than getting hit on the street, but somehow, I was shamed because of the abuse. Shame is planted and always external. The only way to change these stigmas is to tell our stories on our own terms.
What would you recommend if a friend confesses an abuse story?  If someone is telling you their story, it's their story. The way we hear each other, and our reaction to it, is important. The reaction informs the way they feel about their story. One of the most beautiful things I've heard about is after woman told her friend about her story of abuse, her friend said to her, "I will carry this with you." This cracks me wide open when I hear this. Isn't this what we do when we are loving each other well? Right? You take a corner and I take a corner and suddenly it's not so heavy.
"My story was being told in alcoholism, my story was being told in anorexia, abusive, insomnia, perfectionism; it was my abuser telling it."
If a woman reading this interview needs help, what do you recommend she do?  I recommend our foundation, Say it Survivor. You either own your story or it owns you. My story was being told in alcoholism, my story was being told in anorexia, abusive, insomnia, perfectionism, it was my abuser telling it.  It took me taking my story back and telling my story on my terms to heal.
What vision of the future do you have for Say It Survivor?   We are working on our non-profit status so we can take Say it Survivor around the country. I am super excited about taking it nationally! We are adding parent education about prevention and recognizing the signs. Two pieces are important; how to talk to your children about sexual abuse and how to react if your child tells you they've been abused. Most of my pain came from not being believed when I did tell of my abuse. Parents think the worst case scenario is their child is sexually abused, no, the worst case scenario is your child is abused and doesn't tell you.
Are there any resources or steps or books you recommend to a reader?  Anything Brene Brown writes. What she writes applies to anything or everything. For example, The Gifts of Imperfection: Let Go of Who You Think You're Supposed to Be and Embrace Who You Are
Any final words for our readers? I firmly believe all things in your life can be put to use. All of these terrible things that happened to me have a job. They need to be put to use. I am committed to using my experience as a survivor and writer to facilitate people telling their stories as a way to empower and heal themselves.
"You are not alone.  We are a community of survivors.  We made it through the darkness, and now it is time to be the authors of our own lives.  Now we talk about what happened to us on our terms." – Say It Survivor Website
A painful yet amazing story told by an amazing woman. Laura, NMR thanks you for your courage and sharing your story so other women may tell theirs. Your foundation Say It Survivor is a powerful force to give women a voice. Thank you.
At the end of every interview we ask questions, woman to woman, are you game?   Bring it on!
Woman to Woman Questions
What woman living or dead would you want to meet and what would you ask her?  Susan b. Anthony. She was super grouchy. I have an affection for grouchy people. She was probably a handful and I love that. I would be interested on her take on what we as women have done with the gift she gave us. I suspect she'd be pissed.
What's your favorite ice cream flavor?  Not an ice cream girl. But in Maine I eat ice cream. Pistachio.
Hat or no hat on bad hair day?  I have curly hair so I am a messy bun type of girl. I buy lots of hats but don't wear lots of hats!
Favorite movie? Two movies are perfect. Michael Clayton and Shawshank Redemption
Least favorite trait in women?  Competition. We're all in it together and we should act like that.
Favorite trait in women?  The way we show up for each other when the chips are down. It knocks me out.
What can make you cry?  Anything Christmas related. The Olympics. It doesn't matter who wins what, I will cry.
If you could save one thing from your house what would it be? I have become a lot less attached to things in my journey. But I would save my laptop for my writing and pictures.
What's the single most valuable thing you've learned?  Speaking your truth even when your voice shakes. I have never gone down the wrong path when I have been telling the truth about my truth.
Person I admire most?  My kids. Endlessly fascinating. They are kind and have integrity.
Secret mom or woman behavior?  I watch bad television. When I am feeling not great about myself, I watch any Real Housewives show, because I come out of that feeling grounded and great about myself after watching that.
Thank you Laura!
Laura Parrott-Perry loves to cook, paint, listen to music at a very high volume, and read all of the books.  She is a writer, advocate, public speaker and shameless truth-teller.  She is the author of the popular blogs, In Others' Words, and The Golden Repair on DivorcedMoms.com.  Her work has been featured on Huffington Post and in Boston Magazine. Laura is the single mother of two amazing children and is devoted to a very handsome dog, indeed. She studied Rehabilitation Counseling at Springfield College and has extensive experience in Special Ed classrooms as an art teacher and para-educator. That is likely the most fun she will ever have, legally.
She is Co-Founder of Say It, Survivor, an organization devoted to removing the stigma of child sexual abuse and helping its survivors to reclaim their stories as part of the path to healing.