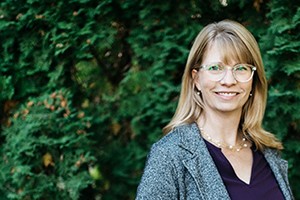 Meet Amy Cast, Owner at Bombastic Web Design. She's a forty-something married mom of three boys, who also volunteers by serving on the school board. Learn the pivotal point that changed the course of her life and how she makes it all work. Amy shares her love of the technical and creative side of her job and how you too can get started in a web design career.
My typical workday consists of both the technical & the creative, which is what I love about it.  It is never the same! – Amy Cast

Why/How did choose your career? I have a marketing degree, but working in a Fortune 100 Company offered no flexibility for my young family, and was frankly not that interesting.  My mother-in-law asked me to help make a website for her non-profit, and I was hooked.
How old were you when you started web design? What if I'm older and want to start? I was 30, and it was pretty easy for me to make the switch.




Tell me about a typical work day for you? What do you love about your job? My typical workday consists of both the technical & the creative, which is what I love about it.  It is never the same – this week, I'm working on websites for a blown glass school, a high-end real estate agent, and an entrepreneur starting a new business in the equestrian tack sector.
What education or training requirements are there for your job? You need to have a good understanding of the technology on which websites are built.  Also, understanding how to communicate a message well is critical – a website is a communication tool, and needs to be organized as such. I did take a few classes to learn the technology background, but that was easily done at my local community college.
What fears/barriers did you experience to gain entry into your job? Starting my own business was a bit daunting.  Incorporating is complicated, and hiring my first employee took a lot of paperwork! Also, I am constantly in a sales mode, looking for new projects.  That takes some mental stamina.
How did you overcome those fears/barriers? I asked around for references for a good lawyer & accountant.  I happened to find two women who support new businesses, and it worked out perfectly. In terms of sales, I just had to get used to looking for business in a way to strengthens my brand & doesn't cost an arm and a leg.
If you could go back and change anything on your path to your career/job what would it be? I still struggle with asserting what I feel is a fair price for my services.  I would stop apologizing earlier in my history for charging what I do.  I have learned that if I have to beg for payment, then it's not a valuable client to devote my time to.  I will always charge a very fair price, but will never again undercut my own value.
What tips do you recommend for work/family balance with your job? How do you make it work? The key to my company is working from home, as it offers the optimum in flexibility and also allows me to commit to serving my community by being on my local school board.  This doesn't mean I will ever sacrifice making the best product for my clients, but I'll never have to sacrifice other areas of my life either.
 I'm happy to work after the kids are in bed until 11pm if that means I can free up a few hours in the afternoon.
Advice/encouragement to a woman who may want to try this career? There are many flexible ways to get the training for web design – I am a big believer in online classes!  Then start looking for projects and approach them without fear!
Resources for you to research being a web designer – Begin by clicking around Get Educated, then check out your local community college. You can search for job openings and just to see what's available in your area by going to Monster, Indeed, or Zip Recruiter. Remember, yes you can do this!
Woman to Woman Questions
At NMR we conclude with answering rapid fire questions, you game?  Yes!
What's your favorite movie? Pride & Prejudice
What's your secret mom/woman behavior? Cranking 80s music (like The Police) while housecleaning.
Hat or ponytail on a bad hair day? Hat
What would you tell your 20 year old self if you could go back? Don't be afraid of technology – I wish I had listened to my father and gone into engineering!
What is your favorite food indulgence? Chewy fruity candy like gummy bears.
Person you admire most? Tie between Lin-Manual Miranda and Michelle Obama
What quality of a woman do you most admire? Tenacity
What one thing would you change about women if you could? Apologetic behavior
If you could choose just one book for women to read, what would it be? David and Goliath: Underdogs, Misfits, and the Art of Battling Giants
Thank you Amy Cast for sharing!
The future belongs to those who believe in the beauty of their dreams. – Eleanor Roosevelt