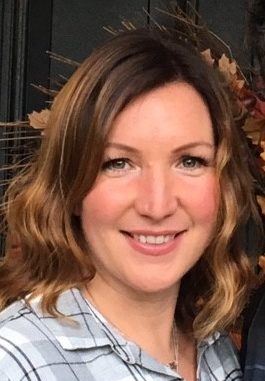 Meet Amy, a Human Resources Recruiter/Manager,  forty-something married mom of two boys and owner of a golden retriever named Rivers. In this exclusive interview with NMR, she shares the moment she knew Human Resources was for her and confesses about the barriers that blocked her at the beginning. Amy lets you know what you need to become an Human Resources Recruiter!
What I love about my job is that every day is truly different and I am constantly learning.- Amy

How old were you when you started this job/career? What if I am older and want to start? I started as an HR Assistant at 21. You can start this career at any age! The job can be full-time or part-time and there is a work from home option.
Why did choose this job?    I wanted to help people so I started a career in social work.  After my internship, I decided social work was not a fit for me.  I interviewed friends of my parents and realized Human Resources & Recruiting interested me. That was a pivotal moment.
Tell me about a typical work day for you? What do you love about your job?    Every day is different. I spend a great deal of time recruiting and sourcing candidates.  I also coach and help managers step into conversations with their employees.  My time is split between recruiting, performance management, advancement planning and training.  What I love about my job is that every day truly is different and I am constantly learning.
What education or training requirements are there?   A Bachelors or Master's Degree in any kind of discipline is most typical. You can also get a specific Human Resources degree or certificate. Many certifications and accreditation's are available through the Society of Human Resources Management. After acquiring certification you can then start to look for a job. Indeed, Monster or ZipRecruiter are a few resources I recommend.




What fears/barriers did you experience?   The biggest barrier was being very young when I entered the field and it was difficult to gain respect and be taken seriously.
How do you recommend overcoming the barrier of being new to a job?   Experience!  It took time.
If you could go back and change anything on your path, what would it be?    Honestly, nothing.  Every career change gave me more experience and perspective which helped me further my career.
What tips do you recommend for balancing work and family? How do you make it work?    Try not to let guilt get the best of you.  You can't feel guilty for not helping more or volunteering at school. You can't feel guilty for not going out for happy hour with coworkers or leaving early to attend something for your child.
You can't give 100% to everything all the time and you have to be at peace with that.- Amy

Any encouragement for a woman who may want to try this career?   You have to like people! Liking people is not the only qualification for pursuing a career in Human Resources but it helps.
Resources for you to research being a human resources recruiter – Begin by clicking around Get Educated, then check out your local community college. You can search for job openings and just to see what's available in your area by going to Monster, Indeed, or Zip Recruiter. Remember, yes you can do this!

Woman to Woman Questions:
At NMR we conclude with a rapid fire Q&A session.  Are you game? Yes!
What's your favorite movie?     P.S. I Love You
What's your secret mom/woman behavior?  I make really good cookies!  My specialties include chocolate chip and Christmas cookies.
Hat or ponytail on a bad hair day?  Ponytail!
What would you tell your 20 year old self if you could go back?  Don't take yourself so seriously.  You are going to continue to grow and learn for the rest of your life!
What is your favorite food indulgence?  Tillamook Mudslide Ice-cream!
Person you admire most?  Too hard!   I admire so many people….but Mother Theresa, Pope Francis, Julia Child and Princess Diana are some of the people I admire most.
If you could meet one person, living or dead, who would that be and what would you ask them?   Jon Benet Ramsey.  I would ask her what happened that fateful night at her house.
What quality of a woman do you most admire?  I admire so many qualities but the one I admire most is humility.  No one likes a show off.
What one thing would you change about women if you could?  Women and young girls having low self-esteem.  Everyone is beautiful.
If you could choose just one book for women to read, what would it be? Little Women
Thank you Amy for sharing!
The future depends on what you do today. – Mahatma Gandhi