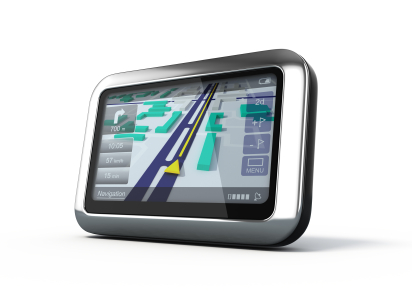 My husband is having an affair.
It started after his 40th birthday…typical, I know.
"Where are you going?" I asked raising my eyebrows.
"Out for a drive," he answered.  His new interest in driving had become a daily occurrence. He volunteered to run errands and help with carpool.  Something was up.
"I need to talk you about your affair," I calmly stated.
"What affair?"
"What do you mean, "What affair"?  You spend time in the car by yourself, volunteering for carpools and running errands? "  I studied his face for an answer. I knew every expression, smirk, quirk and line on that face.
"If you must know," Bill taunted, "I can't get enough of her.  It will wear off eventually and will use her for necessities sake, but for now, I am in love."  The smirk said it all.  "Come and meet her."
We entered the garage, my eyes found her and I remarked, "She is kind of small don't you think?"
"Yes, but that voice…" he said.
Relieved, I conceded it was time I got to know Carmin, the GPS system in his car.  I figured if she dazzled and amazed my husband, I'd better pay attention.  "Take me for ride with your mistress," I teased.
As Bill programmed in our destination, I reminded him, "You don't have to preprogram me."
What happened next really got my attention. Unlike Carmin, I don't know street or exit numbers but she told him when to turn, what lane to be in, what exit to take as well as the exact minute we would arrive at our destination. I usually tell him to turn right at the Red Burger Barn or some other landmark yet she tells him how many feet until his next turn. She even knew the traffic conditions on our route! Without hesitation, he did everything she told him to do.  I glanced over at him and noticed he was mesmerized by Carmin.
Then it happened.  Bill made a wrong turn.  I was just about mention it, when Carmin piped in, her voice very calm, "Rerouting" she said.  That was it, nothing more.
Carmin guided him back on track by telling him a different way to go.  No other comments.   As we approached our destination Carmin announced, "Your destination is on your right."
I have to say I was impressed with Carmin.  Her voice remained calm and steady, and there was no judgment, criticism or correcting Bill's driving. I crinkled my nose and began to absorb what lesson I could learn from this.
And then I began to feel displaced.  Here I was the navigator in this marriage for the last 17 years and my job had just been terminated!   Who would read the out-of-date jumbled and ripped maps on road trips?  Who would turn the maps upside down and sideways to follow the direction of the road?  Who would tell him what to do behind the wheel?
When the kids asked, "Are we there yet?"  Carmin would tell them our arrival time down to the minute, instead of me answering, "Oh, we'll be there in awhile."  Now, it would be Carmin telling my husband where the cheapest gas was within a 5 mile radius and the kids where the nearest Red Burger Barn was located.  Yes, my role as navigator had been replaced.
I took note of Carmin and her gentle ways with my husband and I could understand his fascination with her.  In fact, I now admire Carmin because Bill asks her for directions every day. Carmin has solved a challenge that has forsaken women around the world for centuries.  How to get a man to actually ask for directions.