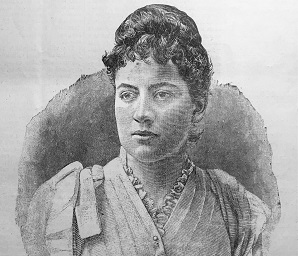 First Woman to Pass Entrance Exam to Yale
Irene Williams Coit
September 24, 1872 – August 2, 1945 (Age 72)
"If the boys can do it, I don't see why the girls can't."  – Irene Coit
Fear is a strong barrier. A powerful force pushing against you, keeping you from what you want. You want to go back to school, but fear creeps in and trips you. Going back to school as an adult is different from when you were a kid. When you're a kid, everybody attends and your only fears are if your crayon breaks and who to sit by at lunch. When you're an adult, not everyone attends, and fears stack up like blocks in a Jenga game; add one more and they crash down in pieces. It's all very complicated.
Why do you want to go back to school?
Every woman's story is different. Maybe you want to finish or start your college degree. Maybe you want a better job. Maybe your husband decided he wants a divorce. Maybe you discovered a passion for gardening and want a master gardener certificate. No matter what your "maybe" is, it's yours and you want to go back to school.
What's blocking you?
Tapes of fear and doubt play in our heads blocking us from the life we want.
Sound familiar? You can stop the tapes. It's in you already, it's been there a long time. Let's dig it out by taking a trip back in time.
In 1891 America, a woman could not vote, own property without a husband, or attend college. To give you an idea of societies beliefs in 1866, at a meeting of the Pennsylvania State Medical Society, the question arose whether female physicians should be recognized as such. And the absurd reply:
"Females are competent, if properly educated, to study medicine; history instructs us that the female mind is competent to anything that the male mind has accomplished. Nevertheless females ought not to be encouraged to study medicine…"
By 1891, a spattering of colleges for women were available. However, these were affiliates of the male colleges, such as the "Harvard Annex". The affiliate schools required women to pass all the same exams as men, but women did not earn a degree while the men did.
What does 1891 have to do with you going back to school?
Meet Irene Coit
Every so often a hand reaches out from history and touches you. Not well known in history books, Irene Coit's small step started a change in the fight for higher education for women.
With the encouragement of her professor Dr. Robert P. Keep, she took the entrance exams to the all-male college, Yale, which was considered to be the most difficult in the country. When asked why she took the exams, her reply was:
"If the boys can do it, I don't see why the girls can't."  – Irene Coit
On July 8th, 1891, Yale College notified Irene Coit of Connecticut that she was accepted to Yale College. The New York Times wrote:
"She is the only young woman who has taken the examinations at Yale University and been notified by the Faculty that, except for reasons of sex, she is in every way fitted for the institution."
Irene's ambition to take and pass the entrance exam to all-male Yale, resulted in a stepping stone in the cause of women's co-education. Irene broke the barrier; a year after she took the exam, two more women passed it with flying colors.
One step made a difference. One step led the way for more women to attend college. One step led to change.
Was it easy? Nope.
She lived in an era where women were considered property of their fathers and husbands. As soon as a woman married, it was assumed she would take on the role of wife and mother.
The Watertown Daily News in New York printed:
Tuesday, September 10, 1895: Irene W Coit, Marries Mr. Henry Graves

"The bride of Henry Graves, postmaster of Geneva, is a talented young woman. She was Miss Irene W Coit before her marriage on Tuesday, in Norwich, Conn. She has the distinction of having been the first girl to pass the examination for admission to Yale.

Nevertheless, she wished to prove that girls are equally capable with boys in a struggle for classical honors.

Yale now permits women to take post graduate courses, but since Miss Coit has chosen to marry she has no use for them."
"…but since Miss Coit has chosen to marry she has no use for them." These words make clear the barrier in front of Irene, what cultural assumptions restricted her life. Irene, knew she could never enroll in Yale, but took the exam anyway. Yet, it took Yale until 1968 to admit 588 women to study within its all-male walls. In the fall of 2015, 2,809 males and 2,696 females attended Yale University.
Irene is one of our foremothers. Our teachers. Our path builders. Our heroines. She demonstrated, even though barriers stand in our way, we can break them down. One small step makes a difference.
Pull the courage out hidden inside you.
The first step is hard, but you've done it before. You may not remember, but you did. You stood up to walk, wobbled and fell down. Then, you pulled yourself up and tried again, and again and again. Then one day, you succeeded. You took your first step. Which led to a life of  running, jogging, playing, and chasing kites on a windy day. You took a first step then and you can do it again.
The courage to take the first step towards going back to school resides in you. Step into the enrollment office, or pull up the web page and register. If you're scared…imagine Irene reaching out her hand from history and helping you. She's waiting for you.