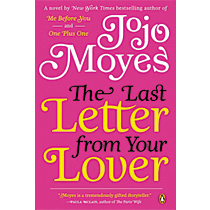 RATING  3 Cups of Tea (Best is 5)
GENRE   Romance, but not your man on a white horse novel.

PAGES   390.   Medium speed page turner.
DRAMA   Marriage, boyfriend and girlfriend drama.
TEARS  1/2 tissue book. Your shirt sleeve will do.
SEX  Yes. Your heart rate will raise slightly a couple times, but no cold shower needed.
VIOLENCE   None.
ENDING   Satisfying.
Curl up with your cup of tea and tuck a blanket under your feet. Your trip to another time period includes romance, a little drama, and adventure. The Last Letter from Your Lover is a masterfully woven story spanning forty years involving two women's lives. A book of secrets,  forbidden love, missed chances and learning what true love is and having the courage to realize you deserve it.
Beginning in the 1960's, Jennifer Stirling wakes up from a car accident, to a world she doesn't remember. To the husband and privileged life she has no recollection of until she finds a letter addressed to her from "B". Who is "B" and did he love her and did she love him? Will she ever remember the life she once had? Jennifer's story leads into Ellie's story in 2003. This plot twist gives the reader a view into different cultural expectations of women in the 1960's and 2000's. Both women struggle to claim true love and Moyes delivers a story worthy of your time to venture into.
You'll find yourself rooting for both women to find resolution in their quest for love and to deal with the choices they made to find it. The story is sophisticated but not stuffy reading that you'll need a dictionary for. Moyes story flows seamlessly from scene to scene and unfolds to an ending only Moyes can deliver.
The Last Letter from Your Lover will leave you satisfied and pondering what would you have done if in the same situation as Jennifer or Ellie? Would you choose the love you deserve?
To purchase for your Kindle, or read in paperback or buy used, just click this link. Happy reading!