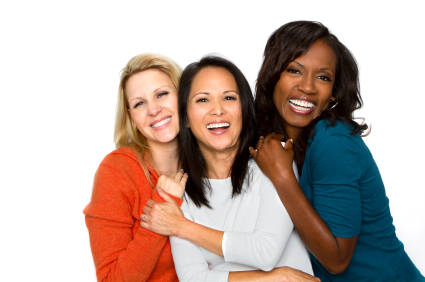 True beauty comes from within…
All women are beautiful…
Beauty is in the eye of the beholder…
Beauty is only skin deep…
All of the above attempt to define beauty. In our series, "What makes a woman beautiful?" we'll explore answers that may surprise and empower you. And we'll answer the question, "Are you beautiful?"
Beauty can be found in brief moments.
Yesterday, I encountered two extraordinarily beautiful women.
During breakfast at a restaurant packed with families, surrounded by the aroma of pancakes and syrup, I noticed a woman in her forties stop at the table next to me. A young family with a newborn baby, swaddled in pink fleece, enjoyed their meal. Mom snuggled the baby up to her face decorating her with kisses while Dad looked on with pride. I smiled, remembering my own days with a new baby. But then something happened that caused me to put my coffee down and listen in.
"What a beautiful baby! Congratulations Mom and Dad. How old is she?" asked the forty-something.
"Five weeks," beamed the new twenty-something Mom.
"Enjoy every minute, I have three teenagers…I know it's hard, but it goes by fast. Your face beams with love when you look at her. What a lucky girl she is to have you as a Mom."
"Thank you!" The Mom radiated pure love while Dad looked on, grinning from ear to ear.
"Enjoy your breakfast and congratulations again!" The forty something breezed away leaving huge smiles in her wake.
The answer is…
I thought how beautiful the new Mom looked when another woman complemented her. I also thought how beautiful the older woman looked while complimenting the new Mom. There was no comparing who breast fed the longest, no competition who was the better Mom, and no comments whether either chose to stay at home or work outside the home. In that brief moment, were two women, exchanging smiles and compliments.
Now, that is beautiful.