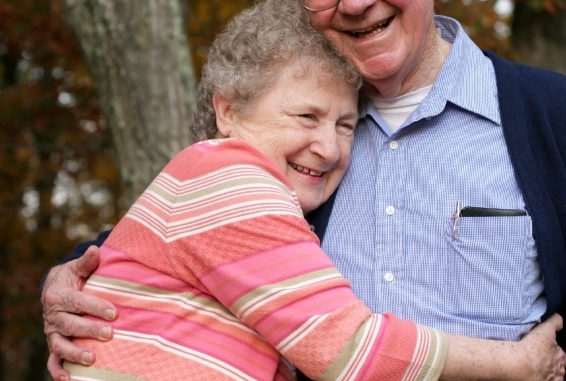 I am 41 years old, have three kids in school, and a parent with Alzheimer's.  I am at wits end, stressed and pulled in different directions with this situation.  What did you do to deal with this, if any of you have dealt with it?  Asked by Noel – Oxnard, CA
You can find information about Alzheimer's and related conditions from this book, The 36-Hour Day: A Family Guide to Caring for People Who Have Alzheimer Disease, Related Dementias, and Memory Loss   or  Alzheimers.gov or Alzheimer's Association

How did I deal with the most difficult situations of my life?  By doing all I could just to keep walking forward one step at a time.  Sometimes that's all you can do, thinking only about what is important in that moment, and just doing that one little thing.  But it allows me to at least keep a forward momentum so I can get through and to an easier time.
Also, I have had to learn to ask for help.  Even if it's as simple as asking for more help with my children's carpools, or letting my family members know they have to pull some more weight or talking to resources at my church and medical centers.  No one will be able to take on all the burden, but if you can at least off load a bit of it, what a help that will be.  And do let the house work pile up, it will always be there when you can get back to it.
Lastly, you must, must, must, firmly schedule time for yourself.  Even if it's just a walk 2 or 3 times a week to get some fresh air, if you don't keep your energy up, you will be no good to no one.  I do hope things will get better for you soon!  Amy C. – 40 something

It sounds like you are at the center of a swirling storm.  I can see how you would be constantly pulled from one responsibility to the other.  I have a few thoughts:
The first thought is that if you are constantly being pulled in many directions that may leave you with a feeling of imbalance – literally being pulled one way and another without a planted and centered feel.  Without balance you cannot be as helpful and nurturing to those you love.  What brings balance to your day?  Is it 5 minutes of quiet time with a cup of tea?  Or perhaps, 10 minutes to close your eyes?   How can you have more of these moments to plant yourself so that when people need you, you can respond and not be pulled out of your balance?
The second thought is to get help.  There are many support groups available for caregivers.  It may seem as though you don't have the time, but if you are not taking care of yourself, you will not be able to care for others.  You may also consider some counseling to aid you in maintaining your own sense of self as you support and love the people that you care for.
It is great that you took the step of reaching out here.  Please continue to do that – ask for help – share yourself.  You deserve to be cared for also.  Helene – 60 something

My mother died of Alzheimer's a year and a half ago, after a downward spiral of almost 15 years.  I completely understand and empathize with your feelings.  There's no way around it, Noel.  You are in for a difficult and heartbreaking road ahead.  Here's what worked for me.
First of all, I was fortunate to have family members who helped me, both emotionally and physically.  You must find yourself all of the information on dementia you can find.  You are not alone, as our population ages this disease is becoming more prevalent.  However, so are the resources available to caregivers.  It is imperative that you understand your parent's behavior, which can be bizarre at times, and not be put off by it.  Your children must also be made aware that their grandparent's behavior is because they are sick, and is not personally aimed at them.  I was fortunate that my mother at no time forgot who I or my daughters were, but this is not the case for most Alzheimer's patients.  If this becomes a reality for you, you must prepare yourself and your family for what is called "the long goodbye."
You must also research what types of care facilities are available.  You don't say if this is a sole parent or a couple, but in most cities your size, there are numerous options so you don't have to bear the burden yourself.  Do not, I emphasize do not, try to go it alone.  At your age and with your family, you have a lot of responsibilities already, and the stress created by Alzheimer's will take a toll on you when you most need to be functioning at your highest level.  Toss guilt out the window—in fact, don't even let it in to pollute your life.  Concentrate instead on positive action.  Depending on the financial situation, explore what services you can avail yourself of, i.e. live-in caregivers, day care centers, assisted living facilities with Alzheimer's wards.  Join support groups, and try and work into your schedule different conferences and workshops.
And, although this might seem odd, do not lose your sense of humor!  With many of their inhibitions gone, a lot of Alzheimer's patients do and say downright funny, rather childish, things.  My oldest daughter has worked with Alzheimer's patients for 25 years, and at her facility started a garden club that she has led for several seasons.  She helps them plant and weed, which many of them have done all their lives, and takes their choicest flowers and enters them into the State fair, with blue ribbons coming home to hang on their walls!  She has made T-shirts with the name of the club, and takes pictures for the newsletter.  Above all, she has helped them keep a sense of dignity that too often is lost while the disease progresses.  Laugh, love, and live your parent's life where he/she is now.  Long after they are gone, you will remember it as one of the richest periods of your life.    Marge – 70 something