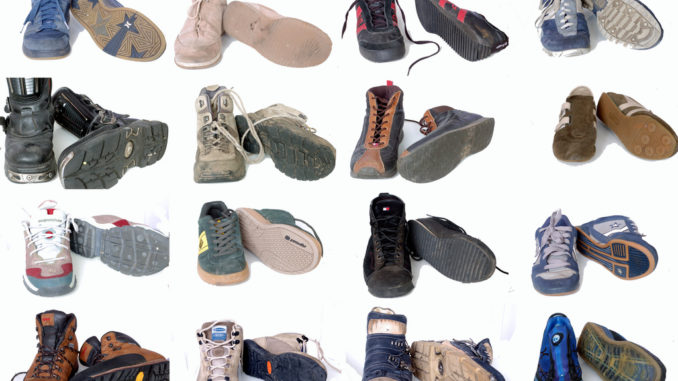 There is one item in a home that accumulates faster than dust. They are walked on, stepped on, thrown around and sometimes left out in the cold. Through it all they support us every step of the day.
What are they?
They are shoes. Not just tennis shoes, but dress shoes, ballet slippers, basketball shoes, baseball cleats, pumps, flip-flops, rain boots, snow boots and slippers with puppy faces.
Shoes are scattered all over the house and stuffed in closets. An attempt to organize a family's shoes is like cleaning out the pantry or refrigerator. You are going to find things that were better left undisturbed. I was in a state of shoe denial, and I was happy.
I decided to attempt a clean out anyway. First stop was the main closet.  I stared at it with fear.  A fear I hadn't felt since cleaning behind the washer and dryer. I reached for the doorknob.  My hand froze in midair. My mind was thinking I had better go to the bathroom before starting such a large project.  A trip to the bathroom, washing hands and reading a chapter in the bathroom book took a half an hour.  Procrastination at its best.
It was now high noon.  The closet door and I were at a standoff.  I stared at it, and I swear the doorknob stared back.  My eyes wandered over to the family pictures hung to the right of the closet.  I began to reminisce about the good old days when my kids didn't wear shoes.  All they wore were socks with rubber strips on the bottom.  That episode ate up another half an hour.  But I still had to face my fear.
I reached out to open the door.  I took a deep breath and pulled lightly.  Just a peek inside and I felt my shoulders sink with a sigh.  The sight of all those shoes overwhelmed me.  I closed the door, paused, and then opened it again.  Shoes were piled up in a heap. It was king of the mountain and the snow boots had won.  I quickly shut the door and figured perhaps I should start on the smaller mountain of shoes in the garage. Procrastination had lost out to avoidance.
In the garage, I stood in front of a pile of muddy shoes, cleats and boots that no one dare wear into the house.  Again I found myself staring. "Someone please save me," I thought, as I stood there for a long time.  The muddy shoes would need to be rinsed off and cleaned before being allowed entry to the closet.  I raised my shoulders, took a deep breath and grabbed a pair of muddy boots. Avoidance had now given way to acceptance.
Walking out to the hose, my step was light. I could feel the grass under my shoes as I looked up at the blue sky.  I began rinsing off the boots and feeling a bit happier that I started the task. I breathed deeply the fresh air of the day…and caught a whiff of something…well…not so fresh.  I looked down and noticed dog poop squishing out the edges of my shoe. I stood there, staring again. I changed into the newly clean boots and left the poopy shoes outside.  I went from acceptance back into shoe denial. I was happy again.