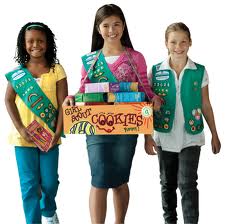 Every spring with their toothless smiles and pigtails, otherwise harmless Girl Scouts somehow manage to throw most of us — even temporarily — off our pre-swimsuit season diets by asking a simple question as we enter the grocery store:
"Would you like to buy some Girl Scout cookies?" says the brown-vested child with her armful of cookie packages.
This Girl Scout's eyes are big and blue and one of her shoes is untied, and I feel my heart and pocketbook begin to warm up.
"What kind do you have?" I ask, realizing I am being sucked in and can't seem to stop.  The cookies are only around for a limited time, and then they disappear until next year, so I will have to buy my favorite:  The thin mint.  I can picture and taste the chocolate and mint melting together in my mouth.  I am in trouble.
"We have Thin Mints, Lemon, Peanut Butter, Shortbread, Caramel, and Peanut Butter Chocolate ones," she answers with a hopeful look in her eyes. She starts to twirl her pigtail while I reach into my wallet for money.
"How much do they cost this year?"  As if I care at this point.
"Four dollars a box," she says with a hopeful smile and I see my own face at eight —selling Campfire Mints — and remember how it felt when an adult said, "No thank you."
I'm a goner now:  "I will take three boxes. Thin Mints, Peanut Butter and Lemon, please."  She jumps up and down in place and excitedly grabs three boxes.  I walk away with my three new boxes of cookies, savoring the moment.
Soon enough, the reality of the cookies in my hand sinks in as I begin to imagine the cookies stuck to my hips and thighs. The cookies whisper to me, taunting me with their short-term existence and nostalgia: "You have loved me since you were a kid, eat me," or "It's okay, I am only here once a year," or "You'll just eat one thin mint…"
To resist eating Girl Scout cookies is unpatriotic and frankly a futile effort. To try to eat just one is also impossible because they are packaged in a sleeve all together in a row so you are never sure just how many you are eating.  It's a futile effort to resist.
I say enjoy the cookies:  After all it has been an American tradition for almost 100 years, and there is a favorite cookie for everyone.  Whether you are you a thin mint or shortbread person, or maybe a peanut butter sandwich lover:   Whatever your favorite cookie is, enjoy it! They'll be gone soon…and if it earns you an extra 15 minutes on the treadmill — it's worth it!